Faerie Friday: Faerie Berry Recipe!
November 7, 2014 in announcements, blog posts, faerie fridays
If you're coming to us from the Rocky Mountain Association of Fairs annual convention – welcome! We're thrilled to have met you out in Great Falls, Montana, and hope to keep in contact with you throughout the 2015 fair season!
We hope you've stopped by room 115 to learn more about our shows and try a handful of our top-secret-recipe faerie berries! Since you're friends with our faeries now, we'll let you in on the secret of how you can make some at home:
Faerie Berries Recipe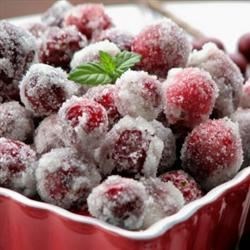 Ingredients:
3 tablespoons egg whites (may substitute 2 tablespoons water and one tablespoon egg white substitute powder of your choice)
1 12oz. package fresh cranberries
1 cup white sugar (may substitute powdered sugar for a more festive look)
In a medium bowl, stir egg white or egg white mixture until blended but not whipped. Coat cranberries with this mixture. Spread the sugar out on a baking sheet, and roll the cranberries in it until they are coated. Dry at room temperature for 2 hours. Use as garnishes for desserts, or just eat them a handful at a time!
Be sure to share our top-secret faerie recipe with your friends, and if you have more questions about our shows, feel free to give us a call at (412) 242-8837 at any time!